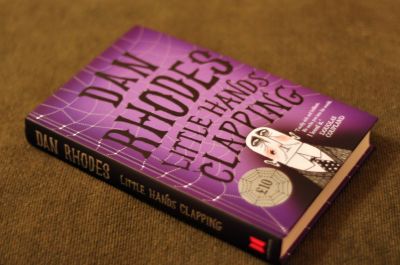 Little Hands Clapping
is a story of love returned and love rejected, of loneliness and despair and moths drawn to the flame. It's a story about a doctor, a model, a baker and a caretaker. It's a story about Pavarotti and accents. But most of all it's a story about something very hinky going on in a museum.
The museum is dedicated to the hopeless and despairing, to failures, and to death. Rooms are called "Unfortunate Survivors", "Popular Methods", "Count Your Blessings" and the like. The idea is to try to prevent people from committing suicide – museum visitors will see the exhibits and realise that living is worthwhile. Unfortunately, for some the museum serves the opposite purpose. And it's after these despairing ones have despatched themselves that the really disturbing stuff takes place...
Rhodes' writing style is simple, almost like you'd read in a young adult book, which initially seems a negative. However, on meeting the characters of the book the simplicity really works. All of the major actors in this novel are caricatures of real life, stereotypes of the characters you'd meet on stage, screen and in print. But through them there's an examination of the human psyche. What drives us to do the things we do? What would we do, given the opportunity? And how much can we forgive?
I really enjoyed the book. It feels almost like a fairytale for adults (with only the smallest bit of slightly supernatural happenings), and it's deliciously wrong. But right. My one problem with it is the ending. Everything is very neatly tied up, which doesn't seem to fit with the overall feel of the book. Maybe I just want it to be more hopeless than it really is.
It's a great little book, though, something quite different from what I've read before. I suggest you pick it up and give it a try.
Oh. But don't read it when you're eating. Just trust me on that.
Little Hands Clapping
is published by Canongate and will be available in the UK on 4 February 2010.
*MySmiley*

Outside of a dog, a book is man's best friend. Inside of a dog it's too dark to read. - Groucho Marx
This message last edited by Rebekah on 21/03/2010 at 04:25:13 PM
Gruesome and delightful: Little Hands Clapping by Dan Rhodes
24/01/2010 10:28:06 PM
-
6412 Views
Sounds interesting, both book and museum; thanks.
25/01/2010 01:56:28 AM
-
1310 Views
The museum's not real.

27/01/2010 12:56:11 PM
-
1438 Views
you know you write really good reviews
27/01/2010 03:25:13 AM
-
1283 Views

Thank you.
27/01/2010 12:58:53 PM
-
1393 Views
Reply to Message